April 22
2002 - Lyrids (Lyra): 11pm: Associated Comet 1861 1: Meteors per Hour 15



2001 - Chris A. Hadfield becomes the first Canadian to walk in space. (Endeavour STS-100 mission to ISS, launched April 19)
EVA 1 - Actual Start Time: 6:45 a.m. CDT, Actual End Time: 1:55 p.m. CDT, Total EVA: 7 hours, 10 minutes.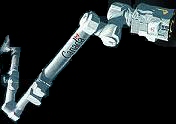 "Hadfield and Parazynski connected cables that will feed the initial electrical power, computer commands and video between the station and the new robot arm, which is also known as Canadarm2. They installed and deployed an ultra high frequency communications antenna that will enable the station to conduct future space walk communications and that will improve future shuttle-station communications. Then, they released launch bolts that held the Canadarm2 secure during its trip to orbit, unfolded the arm and prepared it for control from inside the station."



1891 - Sir Harold Jeffreys' birthday, astrogeophysicist and the first to hypothesize the Earth's liquid core; Jeffreys also made contributions to our understanding of tidal friction, nutation, general planetary structure, and the origin of the solar system.