Canadarm 1 handshake with Canadarm 2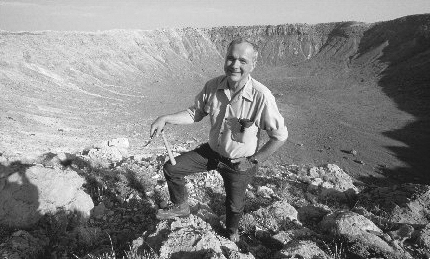 Gene Shoemaker at Barringer Crater
Planetary Science
Superstar
April 28

2001 - ISS to STS-100, the first ever robotic-to-robotic transfer in space. A Canadian handshake occurred at 4:02 p.m (CDT) as the Canadian-built space station robotic arm Canadarm2, operated by ISS crew Susan J. Helms, transferred it's launch cradle over to Endeavour's robotic arm Canadarm, operated by Chris. A. Hadfield a Canadian Space Agency astronaut.


2001 - First Space Tourist Dennis Tito is launched aboard a Soyuz rocket headed for the International Space Station.

1928 - Eugene Merle Shoemaker's birthday. Born in Los Angeles, California he graduated at 19 from California Institute of Technology at Pasedena and a year later earned his Master's Degree and joined the US Geological Survey. Having been turned down by for the Astronaut Program in 1963 he headed up astronaut geological training. When the USGS Center of Astrogeology was founded in Flagstaff in 1965, he was appointed its chief scientist. He became famous to the general public with the co-discovery of Comet Shoemaker-Levy 9 which impacted into the Jupiter atmosphere in 1994. "His many honors included the Wetherill Medal of the Franklin Institute in 1965, election to membership in the National Academy of Sciences in 1980, the Gilbert Award of the Geological Society of America in 1983 and the Kuiper Prize of the American Astronomical Society in 1984. Above all, he was truly the "father" of the science of near-earth objects, to the discovery and study of which The Spaceguard Foundation is dedicated" - Brian Marsden. Eugene Shoemaker died in a car crash in Australia. One ounce of his cremains were launched aboard the Lunar Prospectorr which impacted the Moon on July 31, 1999.

1906 - Bart Jan Bok's birthday, Dutch-born American astronomer who had a distinguished career studying the structure and dynamics of the Milky Way, and who, with his astronomer/wife Priscilla, authored the classic book on the subject. As director of the Univ. of Arizona's Steward Obs., Bok was also influential in the siting of Kitt Peak Nat`l Obs. in the Tucson area.

1900 - Jan Hendrick Oort's birthday, who quantified the Milky Way's rotation characteristics and proposed a vast, spherical reservoir of comets (the Oort Cloud) surrounding the Sun and stretching nearly half way to the nearest stars.