STS-134 Launch
STS-134 Patch
May 16
2011 - STS-134 launched from the Kennedy Space Center on the 25th and final flight for Space Shuttle Endeavour. Mission duration 15 days.

1997 - STS-84 docks with Mir for the 6th STS-MIR mission. It is Jerry Linenger's 122nd day as a member of the Mir crew.

1997 - Images from around the world of Comet Hale-Bopp are posted online. The image to the right is one is taken by David Renneke at 9:32 pm CDT at a rural Milan, Italy site using a Meade 8" telescope and an SBIG ST-6 CCD camera.

1969 - Venera 5, a Soviet spaceprobe, lands on Venus.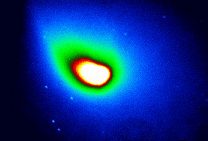 Comet Hale-Bopp: image by David Renneke
Venera 5