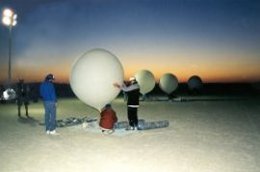 May 23

1999 - JP Aerospace made another attempt at the first amateur launch to space. Using a rockoon system consisting of a launch platform carried by an array of stacked weather balloons with a solid propellant rocket, they succeeded in setting a new altitude record for amateur rocketry but did not reach the originally-intended altitude. The launch altitude was 72,223 feet.

1958 - Explorer 1, the first US Earth satellite, ceases transmission.
Officials, including Werner von Braun (2nd from right) with a full scale model of Explorer 1.