Falcon 9 reaches space.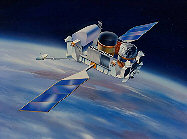 Compton Gamma Ray Observatory
June 4
2010 - Falcon 9, the product of commercial enterprise SpaceX, reaches space.

2000 - The successful nine-year mission of the Compton Gamma Ray Observatory (CGRO) ended when NASA redirected the spacecraft into Earth's atmosphere. It was launched from STS-37 in 1991 for a 5 year mission and has met all of its primary science objectives and many fundamental discoveries.