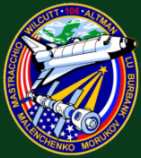 STS 106 Mission patch
Surveyor 5
September 8
2004 - Genesis (solar wind collector) returns to Earth after a two year mission. However, a malfunctioning parachute meant the capsule crashed into the sands of the Utah desert. Despite the hard landing the science samples were recovered.

2000 - STS-106 launch of Atlantis on a mission to the International Space Station. The five astronauts and two cosmonauts will begin preparations necessary to open ISS for business.


1999 - Asteroid 699 Hela Closest Approach To Earth (0.644 AU)

1967 - Surveyor 5 Launched. It was the first mission to obtain in-situ data on the Moon.

1966 - The TV show Star Trek premieres, inspiring a generation's interest in space, astronomy, technology, special effects, and alternative social systems.

1960 - President Dwight David Eisenhower formally dedicated the George C. Marshall Space Flight Center in Huntsville, Alabama, as a new field installation of the National Aeronautics and Space Administration (NASA).
Genesis makes a hard landing

The Enterprise