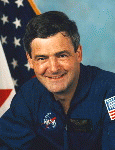 Marc Garneau
A Canadian Superstar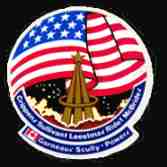 STS-41 G Mission Patch
October 5

1984 - STS 41G Shuttle Challenger. Marc Garneau First Canadian in Space aboard an eight-day mission. Dr. Garneau was the first Canadian to fly on NASA's first mission to carry a seven-person crew. During 133 orbits of the earth in 3.4 million miles, the crew deployed the Earth Radiation Budget Satellite, conducted scientific observations of the earth with the OSTA-3 pallet and Large Format Camera (LFC), performed numerous in-cabin experiments, activated eight "Getaway Special" canisters, and demonstrated potential satellite refueling with an EVA and associated hydrazine transfer. Mission duration was 197 hours 23 minutes. (NASA) Marc flew again on STS-77 May 19, 1996. He is scheduled to fly on STS- 97 and continues to work in the Capcom Office.

1923 - Edwin Hubble discovers the first Cepheid variable in M31, the Andromeda Galaxy, establishing that spiral nebulae are independent and external stellar systems like the Milky Way.

1882 - Robert Goddard's birthday, American rocketry pioneer.