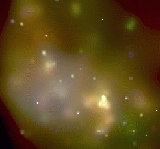 X-ray source at the galactic center
October 26
2000 - Using the Chandra Space Telescope MIT's Fred Baganoff and colleagues recorded a powerful X-ray outburst toward "Sagittarius A*," an intense radio source that astronomers believe is powered by the black hole. X-ray emissions from Sagittarius A* became 45 times brighter than normal during just a few minutes observations then declined to pre-flare levels a few hours later.
"This is extremely exciting because it's the first time we have seen our own neighborhood supermassive black hole devour a chunk of material," said Baganoff. "It's as if the material there sent us a postcard just before it fell in."

1331 - Ismail Abu'l Fida died in Syria. An Ayyubid dynasty historian and geographer, born in November 1273 in Damascus, he wrote a geographic work with the title: 'The true position of the countries' (Thakwim el-Boldan). In this book he used astronomical determined locations. A Moon crater is named to honor him (Abulfeda).