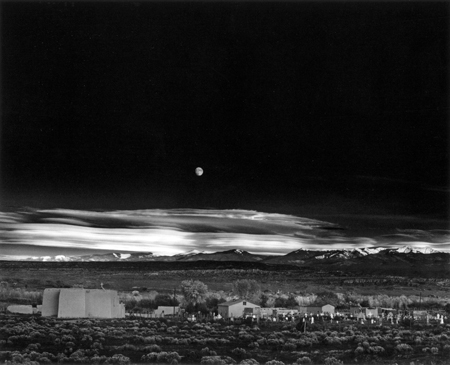 Moonrise over Hernandez by Ansel Adams
November 1
1963 - The Arecibo Observatory in Arecibo, Puerto Rico, with the largest radio telescope ever constructed, officially opens.

1962 - Mars 1 (USSR) launched. On 21 March 1963, when the spacecraft was at a distance of 106,760,000 km from Earth, communications failed. It now orbits the Sun.

1953 - Birthday, American Astronaut Nancy Jan Davis, 1987 NASA Group. Time in Space: 28d 02h 07m. She flew on STS-47, STS-60 and STS-85.

1941 - American photographer Ansel Adams takes a picture of a moonrise over the town of Hernandez, New Mexico that would become one of the most famous images in the history of photography.