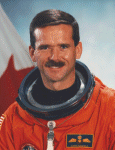 Chris Hadfield
A Canadian Superstar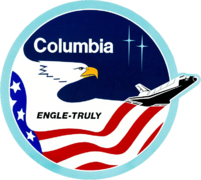 STS-2 Mission Patch
November 12

1995 - Chris Hadfield flies aboard STS-74 Atlantis. Hadfield served as a mission specialist on this second mission to rendezvous and dock with the Russian Space Station, Mir. During the 8-day flight the crew aboard Atlantis successfully attached a permanent docking module to Mir and transferred over 2,000 pounds of food, water and scientific supplies for use by the cosmonauts. Hadfield flew as the first Canadian mission specialist, the first Canadian to operate the Canadarm in orbit, and the only Canadian to ever visit Mir. The STS-74 mission was accomplished in 129 orbits of the Earth, traveling 3.4 million miles in 196 hours, 30 minutes, 44 seconds.



1982 - Deployment of Anik C-3 out of the cargo bay of shuttle Columbia during the first commercial mission of the space shuttle (mission STS-5). Anik C-3 carries the equivalent of 32 colour television channels and 21,504 voice circuits. This world's first direct broadcast satellite for commercial use is more powerful than the previous Anik series, allowing the use of smaller, 1.2 meter-diameter receiving dish antennas, and transmissions to city areas without fear of radio interference.

1981 - STS-2 Columbia Launch. Thomas K. Mattingly, Commander Henry W. Hartsfield, Jr., Pilot. Mission duration: two days, six hours, 13 minutes, 12 seconds. It was cut short of the planned five day mission due to fuel cell failure. Canadaarm debuts the next day.

1980 - Voyager 1 makes its closest approach to Saturn.

1965 - Venera 2 (USSR) launched. Venus flyby mission. Communications failed just before arrival and it never made it, and is now is solar orbit.

1937 - Birthday, Richard H. Truly, American pilot, admiral, and astronaut.

1916 - Death of Percival Lowell, American astronomer, born in 1855.