November 19
1999 - Press Conference and the release of pictures from Io, Jupters closest moon. NASA's Galileo spacecraft flewby Io on October 11, 1999, its instruments captured data which confirms recent hypothesis and poses new science questions. Launched in October 1989, Galileo entered orbit around Jupiter on December 7, 1995 on a mission to study the giant planet, its largest moons and its magnetic environment. JPL manages the mission for NASA's Office of Space Science, Washington, DC. JPL is a division of the California Institute of Technology, Pasadena, CA.

1999 - China launches unmanned mission to orbit at 2230 GMT Friday making China only the third nation in history to launch a vehicle capable of carrying a person into space after the former Soviet Union and the United States. It was the 59th launch of China's showcase Long March rocket series, which suffered a string of disasters from 1995-96, and the 17th consecutive successful launch in the past three years . unofficial site

1969 - Apollo 12 made the second human lunar landing.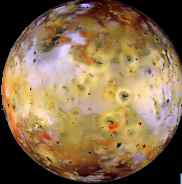 Io, Jupiter's closest moon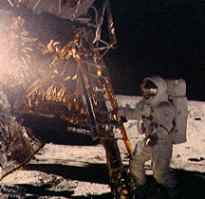 Alan Bean steps off
second lunar lander