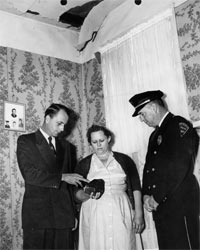 Elizabeth Hodges, the meteorite and the hole in her roof.
November 30

2000 - Launch of STS-97 Endevour at 9:06 p.m. CST. The sixth space shuttle mission to visit the International Space Station. Space Shuttle Endeavor and its five-member crew will deliver the P6 Integrated Truss Segment, which includes the first US Solar arrays and a power distribution system. Marc Garneau became the first Canadian in space in 1984 and becomes the first Canadian to be launched into orbit for the third time.

1954 - Elizabeth Hodges is hit by a 5 kg meteorite in Alabama. "The Sylacauga meteorite is the first documented extraterrestrial object to have injured a human being in the USA. The grapefruit-sized fragment crashed through the roof of a frame house, bounced off a large wooden console radio, and hit Hodges while she napped on a couch. The 31-year-old woman was badly bruised on one side of her body but able to walk. "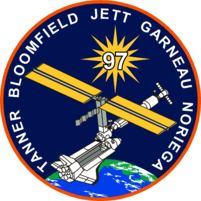 STS-97 Mission Patch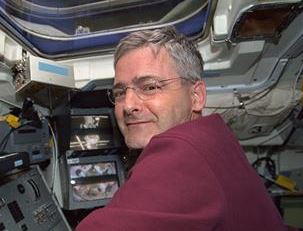 Marc Garneau