December 7
1995
-
Galileo Probe
successfully descends into
Jupiter
's atmosphere and directly measures the atmosphere of a Giant Planet for the first time.
1972
-
Apollo 17
launched becoming the last Apollo mission. It is also the last time humans landed on the
Moon.
The mission lasted for 301 hours, 51 minutes, and 59 seconds and returned the greatest amount of lunar samples to Earth. Apollo 17's commander was
Eugene A. Cernan,
Ronald E. Evans
was the command module pilot and
Harrison H. Schmitt
was the lunar module pilot. Schmitt was also the only professional geologist to go to the Moon. The picture we know as
"The Blue Marble"
was taken during this mission.

1905
- Birthday,
Gerard Kuiper
's, Dutch-born American planetary scientist who discovered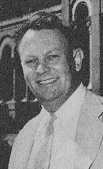 moons of both
Uranus
(see
Feb 16
) and Neptune (
May 1
), and Saturn's moon
Titan
's atmosphere, and studied the origins of comets and the solar system.