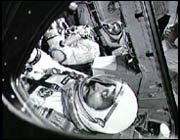 Gemini 3 crew
Gemini 3 Mission Patch
March 23
2001 - The End of a Space Odyssey. Russian Space Station MIR returns to Earth. After 15 years and over 150 visitors, the well used and well loved station is deorbited and sent crashing into a watery grave in the South Pacific, 40 degrees south latitude, 160 degrees west longitude. Eye witnesses to the fiery downfall attributed sonic booms to the estimated 20 to 25 tons of remnants moving quickly toward the Earth's surface.

1965 - The US launched Gemini 3 into Earth orbit carrying astronauts Virgil (Gus) Grissom and John W. Young. Grissom and Young orbited the Earth three times. The Gemini spacecraft were larger than the Mercury capsules, weighing about 8,400 pounds, and they carried two astronauts rather than one. Gemini 3 was the first manned mission of the Gemini program, after two unoccupied test flights. (NASA)

1912 - Wernher Von Braun's birthday. He was an important rocket developer and champion of space exploration from the 1930s to the 1970s.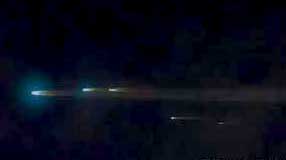 MIR, The final moments
last image of MIR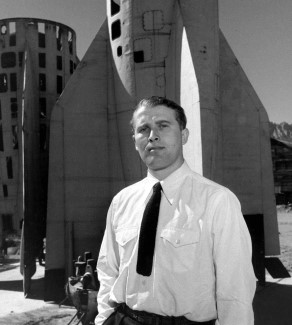 Wernher Von Braun
(1912-1977)