Sea Launch by Boeing
March 27
2007 - Image released of Saturn's strange north polar hexagon.

1999 - Inaugural Sea Launch Zenith (Boeing) from Oydessy Launch Platform 2,250 kilometers S.E. of Hawaii in the Pacific Ocean. A dummy payload launched into geosynchronous orbit.

1972 - Venera 8 (USSR) launched. Venus lander mission it arrived on July 22, 1972 and returned data for 50 minutes.

1969- Mariner 7 Launch (Mars Flyby Mission). On August 5, 1969 Mariner 7 approached 3518 km from Mars and returned 125 images.

1968 - Yuri Gagarin, first human in space, killed in aircraft accident.

1845 - Birthday of German physicist Wilhelm Roentgen who discovered x-rays in 1895. He received the Nobel Prize for his research on x rays 1901.
Saturn's strange hexagon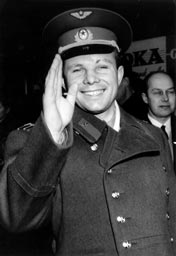 Yuri Gagarin, first in space.