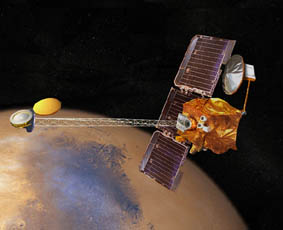 Mars Odyessy
The first shuttle space walk.
April 7
2010 Images taken by Cassini spacecraft confirm an exosphere of molecular oxygen ions around Saturn's moon Dione.

2001 - Mars Odyessy launched. An orbital mission to map Martian elements and minerals, look for water, and analyze the radiation environment. A successful MOI (Mars Orbit Insertion) happen on October 24th, 2001. Aerobraking would take a few more months and science instruments were turned on on February 14th, 2002.

2001 - Successful first flight of Proton M

1991 - The Compton Gamma Ray Observatory was deployed.

1983 – During STS-6, astronauts Story Musgrave and Don Peterson perform the first space shuttle spacewalk.
Dione